Bucher + Suter's Hands-On VTO-Day in Las Vegas – A Day of Connection and Compassion
It was June 4th, a Sunday – a day usually reserved for rest and relaxation. That Sunday, however, we had a different plan. We'd had a staggered arrival in Vegas for Cisco Live, and Sunday represented the first day that most of us were together. As others slept in or prepared for brunches, we were gearing up, our tool belts ready, set for a day of volunteering adventure. We were headed out to partake in two unique Volunteer Time Off (VTO) events through the b+s Plus Program.
Morning: pedals, handlebars, and a whole lot of heart!
As the dawn broke, casting its golden rays on Las Vegas, we united in purpose with the wonderful team at Bikes for Goodness Sake. The task was relatively simple – to construct 15 bikes that would put smiles on the faces of some children in the local community.
We split into groups of two or three, the atmosphere abuzz with laughter and camaraderie. We dove headfirst into the project, piecing together parts that would soon transform into vehicles of joy.
Of course, every adventure has its share of obstacles. In our case, our toolkits failed to arrive on time for reasons beyond our control. However, in Bucher + Suter style, we turned this challenge into an opportunity. Tapping into our engineering-led resourcefulness, we pushed on. By the time our trusty mechanics swooped in, armed with a full array of tools, we proudly announced that most of the bikes were already 80% complete!
After a thorough inspection and the official nod from the mechanics, the bikes were transported to their new home – the Stupak Community Center. This center serves as a beacon of hope for the local children, providing them with an array of resources – a library stocked with endless tales of adventure, a media room that nurtures creativity, and a gym to channel their boundless energy.
When the bike handover occurred the following day, 3 members of the b+s team: Chris, Vivian, and Amy, could see first-hand the excellent work that the bustling Stupak Community Center is involved in. Witnessing the excited anticipation of the children as they awaited their new bikes was an incredible experience that further cemented the importance of our mission to give a bit back to the communities we're involved in.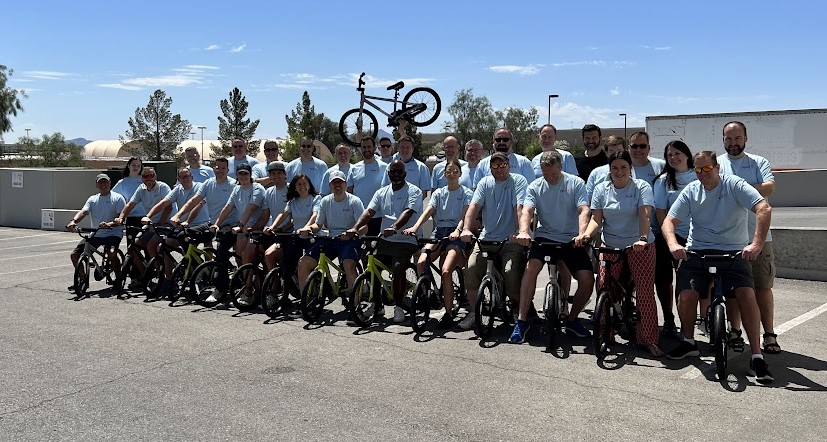 Afternoon: The Nevada Partnership for Homeless Youth
Yet, our day was far from over. With spirits undampened and energy reserves still high, the Bucher + Suter team readied themselves for the second part of our VTO mission. We partnered with the Nevada Partnership for Homeless Youth (NPHY) this time. The morning's exhilaration spilled into the afternoon, fueling us for the next challenging task.
Ten Bucher + Suter team members embarked on transporting school supplies from one storage location to another. The afternoon proved to be a real-life game of Tetris as we grappled with loading and unloading a trailer packed to the brim with boxes destined for NPHY's annual Education Drive: Help Youth Thrive.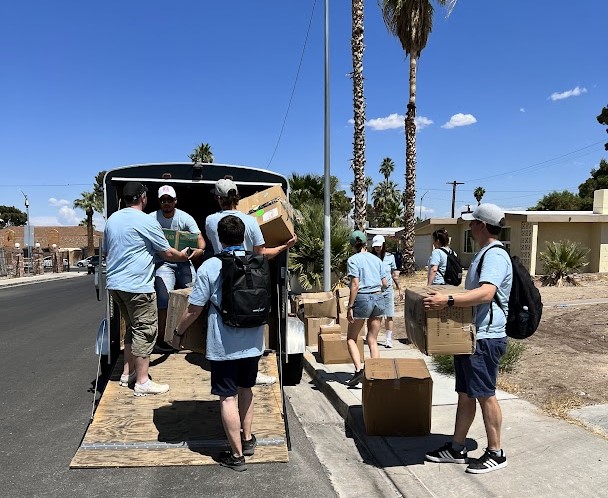 We finally arrived at the new storage facility after a vigorous tussle with the trailer and boxes. Working like a well-oiled machine, we unloaded and inventoried the boxes.
NPHY has dedicated itself to aiding homeless youth in Clark County. They provide more than basics like food, clothing, hygiene supplies, and bus passes. Their support extends to emotional guidance, practical assistance, and invaluable resources, enabling these young individuals to secure a safe place to stay, continue their education, or find employment.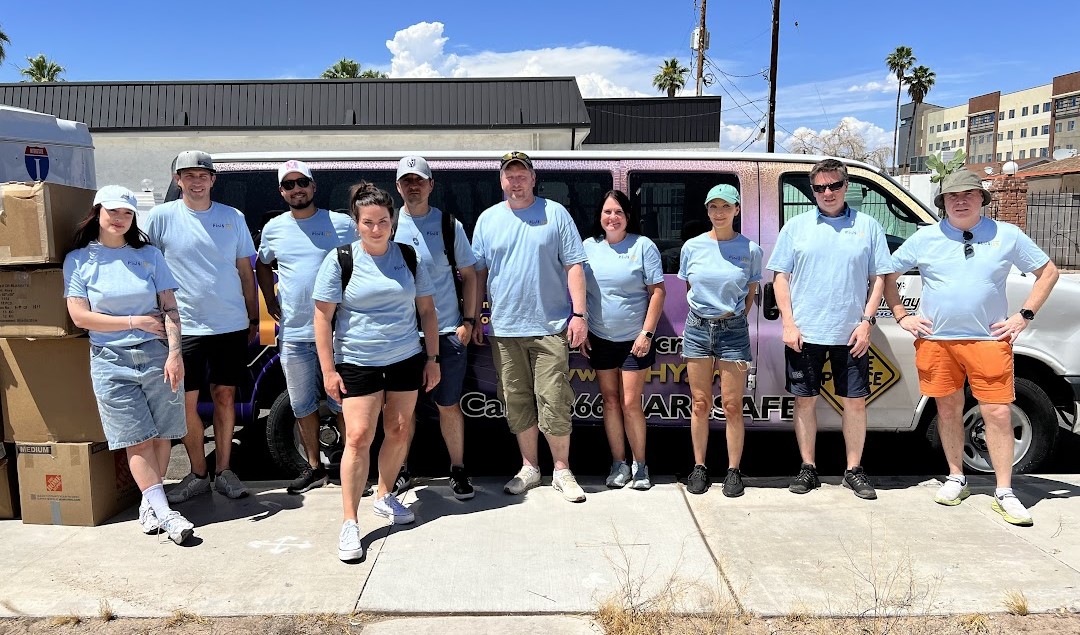 Overall, it was a transformative day that served as a potent reminder of the importance of community engagement and corporate responsibility. It reinforced our belief in the power of unity, shared purpose, and the profound impact our collective efforts can have on improving the lives of those less fortunate. As we continue this journey, we remain committed to driving positive change, nurturing our community, and inspiring others to participate in such endeavors. At Bucher + Suter, we steadfastly believe that every single day presents a golden opportunity to make a difference. Here's to seizing it!