Integrate Webex or Cisco Contact Center into Microsoft Dynamics
Deliver precisely what your customers desire, while anticipating their future needs, by equipping your agents with a sophisticated, seamlessly embedded Dynamics-based omnichannel desktop with Webex or Cisco Contact Center.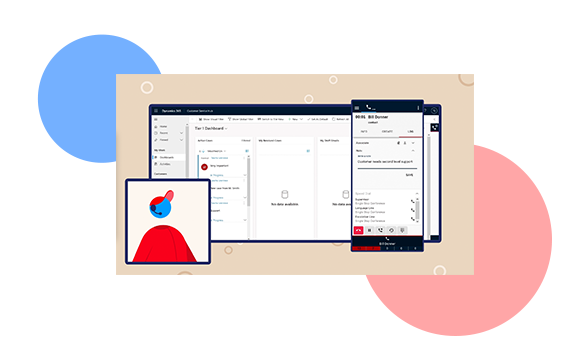 A powerful, customer-focused, agent desktop
Integrate Microsoft Dynamics with Cisco or Webex Contact Center, and give your agents everything they need to wow your customers.
b+s Connects is available on Microsoft AppSource.
Microsoft AppSource Listing

Delivering exceptional experiences starts before the point of contact with Dynamics 365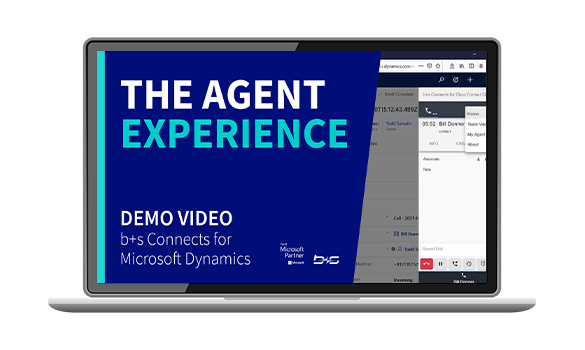 Providing better agent and customer experiences
Your agents need focus in order for them to make the most out of their customer interactions. With a Dynamics integration solution like b+s Connects, your agents have everything they need to prioritize handling your customers and their concerns in a timely but personalized fashion, above all else.
It's agent experience done right. It's agent experience that empowers better, more efficient CX.
Automate your interaction data capture and improve your supervisors' workflows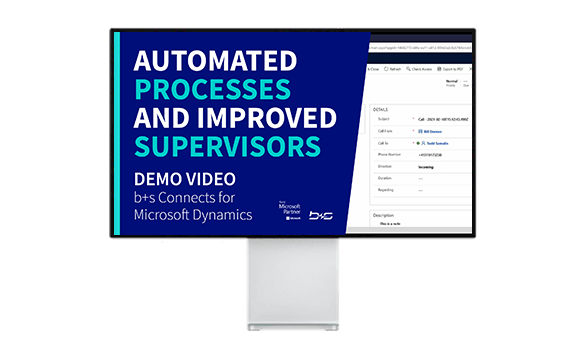 Supervisor insights – a key to improved efficiency
Dynamics integration for Webex and Cisco Contact Center with b+s Connects ensures that data is automatically captured at every turn and every interaction to intelligently support your supervisors' actions. Give them the insights that help them optimize their teams and their workloads.
Save time on every call with best-in-class Dynamics integration from b+s Connects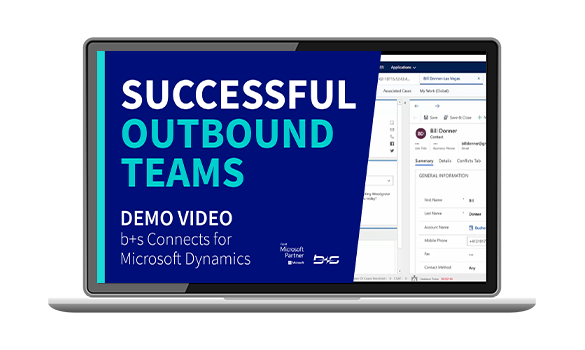 Ensuring success for your outbound teams
Your sales and outbound service teams have a lot on their plates.
Make life a little simpler for them with a Dynamics 365 integration solution like b+s Connects. Our Webex or Cisco Contact Center to Microsoft Dynamics integration makes manually typing every phone number a thing of the past, and that means no more typos or accidentally misplacing calls.
Whether your outbound teams have long lists to follow-up with or your inbound teams need to be able to reach out to the occasional customer or teammate, every contact is now but a click away, with b+s Connects.
Discover the benefits of b+s Connects for Microsoft Dynamics.
The Agent's Dynamics 365 Unified UI
Take the hassle of multiple apps from your agents, provide them with a unified desktop, and let them focus on their customers.
Seamless transfer of IVR & call data
Real-time display based on Finesse data
Configurable lookup on all customer objects
Check out the fact sheet for a detailed feature list
ROI Calculator
The contact center is no longer seen as a cost center, but a vital cog in your customer support strategy. Learn how much you could save on your inbound and outbound interactions with b+s Connects.
Videos
b+s Connects for Microsoft Dynamics (CCE) demo

b+s Connects for Microsoft Dynamics (CCX) demo