February 28 to March 2, 2023 | Estrel Convention Center, Berlin
You know how it is at trade shows:
"Visit us at this year's CCW between 02/28/23 – 03/02/23."
… well yes sure but why?
It goes without saying that we need your help to get us up and running at CCW 2023. In return, we will invest in you. In return, we'll show you our latest achievements in connected customer engagement, automation and self-service.
In any case, at CCW 2023 you'll actively get in touch with our exciting use cases and with the voucher code 345624, you'll even get free entry to the show!
Topics
Automating Monkey Work and relieving employees in the process – yes, but how?
The Webex App is the one-stop omnichannel platform for the holistic communication of medium and large companies. The complete collaboration and service center palette intuitively, accessibly and securely united in a unified front end – a gift for employees.
CPaaS automates and harmonizes private channels like WhatsApp, SMS and Messengers with business apps like Office365, Salesforce, Servicenow…
CCaaS is the modern omnichannel contact center including Google Cloud CCAI voice and chatbots.
At our booth, visitors play with fluid use case demos from the Finance, Insurance, Travel industries. The playful approach inspires and inspires the senses for own ideas and use cases. We deliver, you play & marvel – we promise!
The service center has evolved from a problem solver to an important corporate function. So, too, has Bucher + Suter evolved from a classic contact center to a Connected CX expert. We digitize in a targeted and precise manner, without forgetting people.
Related to the topic: Visit our Speaking Slot in Hall 3 on February 28, 23 at 10:00 am.
b+s Powerplay, a gift for IT, business, management and users
Available in all types of flavors, we show you for the first time the symbiosis of tech giants!
Do you work with Microsoft Teams or Cisco Webex App in combination with a common CRM?
You want tooperate CRM, calling, meeting, messaging, contact center, chat and voicebots in a unified front end? PERFECT! Then we firmly believe that participation is worthwhile for you.
Just as a teaser
In the screenshot you can see an interaction between Microsoft Teams, Webex Contact Center and Google Cloud CCAI.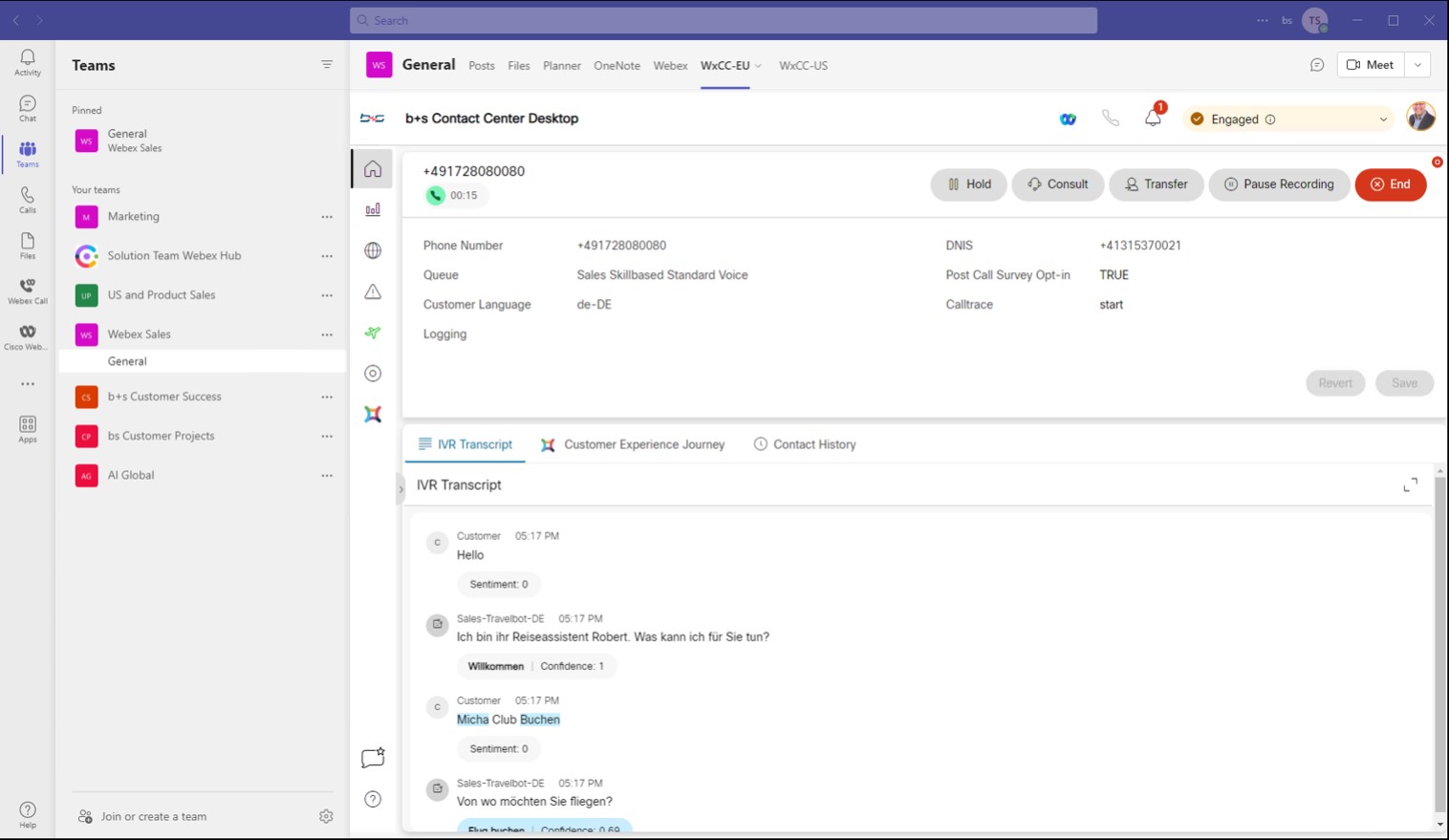 But we are not only looking forward to the fluid use cases e.g. for Finance, Insurance, Travel, but also to the human interaction and one or two drinks at the bar.
See you around?
Let us know on which day and at which time we may reserve a demo session for you at our booth. If you have any questions, please contact Bruno Grünig or your account manager directly by email.
Your Bucher + Suter team