Do Cloud Services Reduce Operational Costs
Do cloud services reduce operating costs?
Cloud services are understood to reduce operating costs and free resources. But what needs to be considered to ensure that migration to the cloud really achieves the expected goals?
Article published in Contact Management Magazine (issue 04/2018)

For businesses, the decision to purchase applications as cloud services rather than acquiring new hardware and software, is a strategic one. Seeking out an offer on cloud services simply motivated by the price is a half-measure that may make little business sense. Cloud services are known to offer many administrative and operational savings that are difficult to quantify when compared to conventional implementations, and are therefore not comparable. Furthermore, it is often assumed that when utilizing cloud services that certain operational expenses cannot be reduced and that employees still cost the company the same amount. And herein lies the crux of the matter: a successful cloud strategy demonstrates its value insofar as personnel resources can be reallocated to different tasks.
From a business management perspective, the decisive advantage associated with cloud services lies in the difference between investment calculation (CAPEX)—with depreciation, and inaccurate or unpredictable costs—and operating costs (OPEX), where the exact billing is clear to the internal customer. With a clear sense of ongoing cost, companies that purchase cloud services benefit from a high degree of flexibility and agility.
There are other, unquantifiable advantages that favor migration to cloud services when those services are renewed, expanded, or further developed. For example, a mostly underlying advantage is that an on-premise system must be renewed after a three to five year lifecycle. In contrast, with cloud services, hardware and software are always up-to-date. In this way, costly and resource-intensive renewal projects, as well as new investment costs, can be avoided.
"Cloud solutions can avoid costly and resource-intensive renewal projects as well as new investment costs."
R. Müller, BD, b+s Cloud Services
Critical Success Factors for a Cloud Strategy
If a company relies on a cloud strategy, and migrates systems and applications to the cloud, there are a number of critical factors to consider. Contact center solutions, in particular, often require additional applications, such as recording software and workforce management tools. If all necessary applications are not bundled by the same cloud provider, it is much more difficult to manage the lifecycle of individual applications.
For example, when obtaining contact center and workforce management from different cloud service providers and then providing the recording software internally, who then sets the release frequency? Who is responsible for ensuring that everything works again after a release update? Who solves interface problems? Who coordinates the release roadmap? Coordinating these issues creates additional operating costs.
"It makes little business sense to ask for a cloud offer just because of the price."
R. Müller, BD, b+s Cloud Services
Different Cloud Services Have Different SLAs
It is the internal service manager's responsibility to summarize these KPIs and to create comprehensive reports with dashboards. The question of an appropriate billing model then also arises. Can the same pay-what-you-use model be obtained from all providers? If not, additional administration costs should be expected. Finally, with an additional on-premise application installed, the question of the internal distribution and cost key also become an issue.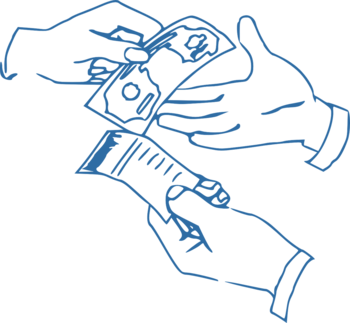 This means that the investment costs must be allocated to an operating cost model and then also synchronized with the cloud service fee. For these reasons, it is advisable to choose a cloud service offering with as broad an application portfolio as possible. Even if there is no need for additional applications within the first few years, it should be possible to expand with new services down the road. For example, it should be possible to introduce recording software at any time, or to expand an existing voice recording system with screen recording for a new multichannel contact center. If these options are available in the cloud service provider's portfolio or are outlined in a project roadmap, new applications and functions can be introduced at any time without major procurement and implementation costs.
"It's a good idea to choose a cloud service offering with as broad an application portfolio as possible."
R. Müller, BD, b+s Cloud Services
Conclusion
Cloud services enable the release of human resources
Cloud services do not require renewal projects. Lifecycle management is the responsibility of the service provider
Operational and administrative costs are massively reduced by migrating additional applications to the same cloud service
Cloud services are characterized by:
A transparent and uniform billing model "Pay-What-You-Use"
A uniform SLA for all related applications and functions
The portfolio of the cloud service provider should allow extensions with additional applications and functions at any time.
Considering these issues from the beginning, will provide businesses far greater agility. And, having migrated to the cloud, you can pat yourself on the back…
You've REDUCED operating costs!
If you're evaluating a migration to the cloud? We would be happy to show you the way.