Salesforce Omni Channel Federation
Salesforce Cloud Services represents the state of the art in customer engagement software. Salesforce increasingly makes it easier for businesses to manage customers via a wide, and ever increasing, range of service contact channels. Because the quality of customer care is directly related to customer retention, providing seamless, fast, and optimized customer service must be a priority.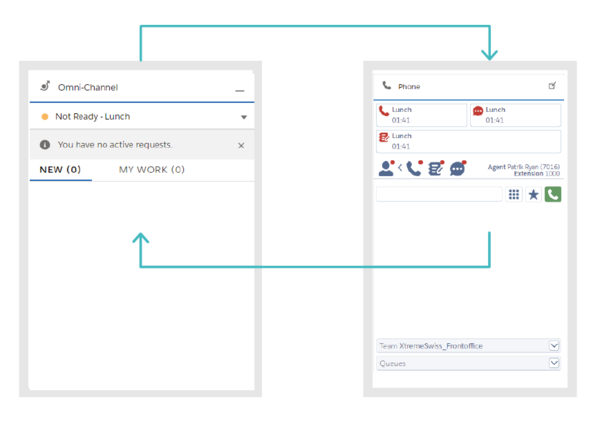 Salesforce Omni Channel makes handing multichannel customer contacts possible by routing chats, SOS video calls, emails and a number of other objects and records to the most qualified agent in the shortest possible time. The software is also able to survey and create cases for a range of social media interactions that ensure agents are able to respond to negative media and brand image issues. Managing this wide range of communication channels is a complicated task, and is growing increasingly challenging as the range of channels available to customers increases. Fortunately, Salesforce allows agents and supervisors to optimize these multichannel requests such that customers always get the service they need from the most qualified agent available.
Salesforce does not include telephony…
in the suite of communication channels they natively provide. Instead, they have elected to rely on software integration experts such as Bucher + Suter (b+s) to integrate enterprise and contact center telephony services into the Omni Channel communication platform they already offer.
Businesses that have chosen Salesforce Omni Channel for customer care, and Cisco for Contact Center infrastructure and telephony, face the challenge of tooling their agents with applications that allow a seamless and productive experience as they service end customers. Agents must be ready to field contacts from a number of communication channels. If Cisco's CCE/CCX telephony services are not coordinated with the Salesforce Omni-Channel routing engine, agents may receive phone and Omni Channel service requests at the same time. b+s Omni Channel Federation solves this problem by coordinating Cisco CCE/CCX with the Salesforce Omni Channel router to ensure agents are not interrupted by Salesforce tasks when on phone calls. Omni Channel Federation accomplishes this by allowing administrators to integrate phone calls into interruptibility rules that define how many Live Agent chats as well as what kinds of other tasks agents may be assigned simultaneously.
Beyond coordinating Cisco CCE/CCX and Salesforce…
the b+s Omni Channel Federation feature provides a number of other useful capabilities. Chief among them is that Federation gives agents the ability to utilize a single gadget interface for phone and Omni Channel control. This allows agents to manage their state, and accept new Salesforce tasks and Cisco CCE/CCX phone calls from within the b+s gadget alone. Normally, agents would have to use the Salesforce Omni Channel gadget to see and accept new multichannel tasks. b+s Omni Channel Federation centralizes agent state control to within the gadget such that both the CCE and Salesforce routing engines are dynamically updated about the agent's state. Finally, our Omni Channel Federation enhancement allows CCX customers to integrate third party multichannel services – a feature not normally available in the CCE Edition.
The most effective way to organize a multichannel contact center using Salesforce and Cisco CCE/CCX…
is to optimize utilization of blended agents. Splitting agents into call-only or multichannel-only groups is not an ideal use of agent resources. To best use blended agents, who are capable of handling both calls and multichannel customer requests, a telephony integration solution that works seamlessly with Salesforce Omni Channel is a must. b+s Omni channel Federation not only makes this integration possible, it also streamlines agent workflow such that agent utilization is maximized and agent burnout is minimized.
Get in touch with us today to learn more about how our products can help you.