b+s Connects for Microsoft Dynamics 5.9
A double whammy of top-tier additions: omnichannel presence sync and custom integrations with the b+s Connects API
It's one of our most hotly requested mods and one that our Dynamics team has been working in close collaboration with Microsoft to achieve on your behalf. Through customer feedback, partner development input, and a bit of perseverance, Microsoft has built Presence sync APIs, which empower us to create a federated agent state between Dynamics and Cisco Contact Center with b+s Connects. It's a AAA addition to an already stellar feature set. Providing state change syncs for omnichannel contact centers improves productivity and customer outcomes by ensuring omni agents really are ready when their status says they are.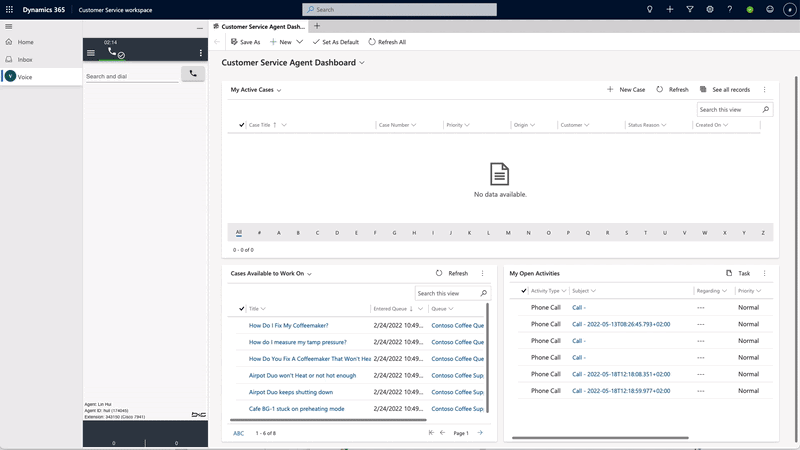 Federated omnichannel state change (presence sync) in b+s Connects
And for our power admins and contact center managers, we have opened an API that lets you buff b+s Connects by integrating into the gadget—giving you even more control of your agent workflows and integrating your existing systems around those workflows. Run your contact center and your business the way you know it needs to be run. It's about higher functioning agents (noobs and aces alike) getting even more done inside a single Dynamics UI!
Simplicity in a world of IT complexity… we got you covered!
Also available with b+s Connects for Microsoft Dynamics 5.9
VPN-less Finesse makes connecting to Cisco Contact Center simpler than ever for quicker start-up and greater connection reliability.
Got agents who work from home a couple of days and do a couple from the office? With agent device selection, agents can select their desired device during the login process.
Make the login process even easier, by allowing agents to login with their name or their agent login ID.
For more information, including documentation, check out the b+s Hub.