The Relevance of the Contact Center in the Age of Increasing Digitization
Companies are heavily reliant on a number of different applications for performing their day-to-day activities. Employees have to deal with enormous volumes of data processed using complex applications. These applications require a certain level of expertise. They also create a lot of work for employees and frequently represent a significant challenge. The impact that all this additional data and such complex applications have on a customer's overall experience with the company is largely negative. Webex Contact Center provides the necessary boost.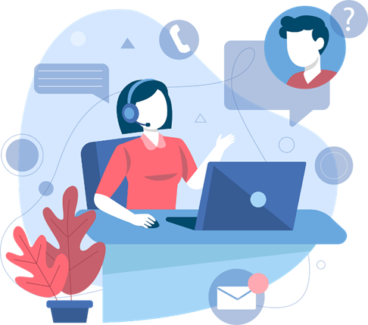 With advances in digitization, customer relationships are changing with the times. A complete customer experience is the air that every company breathes. The Contact Center is the beating heart of a company and can either make or break the relationship between customer and company. That's why it is vital that companies offer truly advanced, structured, and meaningful customer service.
When it comes to the contact center, there is an enormous divide between how companies view themselves and how others view them
Companies think that their customer service is running nice and smooth, yet only a fraction of customers (8%) think the same. A statement backed up by the results of a study by Bain & Company.
Companies should have stopped using KPIs like solution approaches, length of conversation, dropout rates, and waiting times as their predominant benchmarks for ideal customer service long ago.
In reality, every caller knows what the problem is:
Call waiting times seem to last an eternity. Once the customer has answered the extensive questions posed by the computer voice, in just two attempts if they're lucky since the computer has trouble understanding their voice or their dialect, the customer finally gets through to an employee. Once their problem has been recorded, this employee redirects the caller to another colleague. And it's back to waiting again: with music that's painful to listen to. Then, they have to describe their problem again from scratch to the next employee. Consequently, this customer is hugely dissatisfied.
Unfortunately, what causes this is the preponderance of silo thinking at many companies, which in turn has a negative impact on the customer service systems: Information gets stuck in individual departments instead of being forwarded around the company automatically. This inhibits cooperation, increases costs, and hinders efficiency.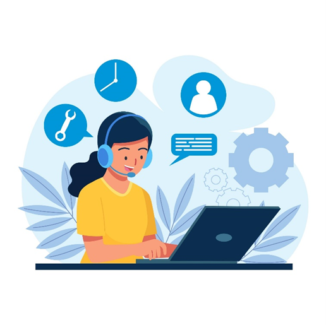 Applications like Cisco Webex Contact Center allow call center employees to access all existing customer information directly during the call, while new data is automatically saved in the dataset. As a result, all employees from all departments have the data and cases in front of them, meaning the customer doesn't have to explain their problem from scratch every time. Contact can be made using a chatbot as well as directly by phone. The agent has direct access to all the customer's information before speaking to them.
With the Cisco Webex Contact Center application, customers can also be given information
proactively:
Let's say, for example, that an online streaming service is going to be disrupted for a few hours.
Customers are proactively notified via telephone, email, text, or chat. They are then given credit for a free premium movie as compensation. The result is that now only individual affected parties will call up customer service.
The number of incoming service calls can be reduced further by using solutions such as real-time updates for package tracking or food delivery services.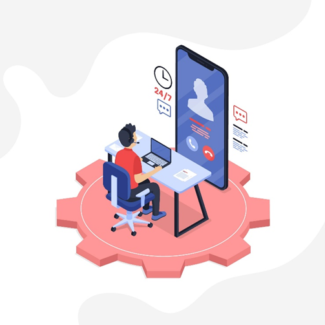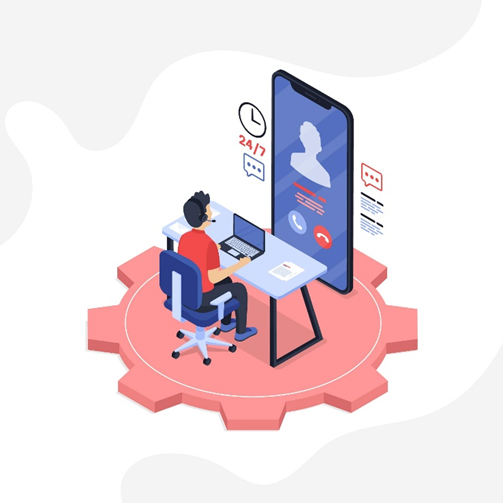 The comprehensive Cisco Webex Contact Center provides all of this in a single platform for companies of any size. The Contact Center cooperates with multiple certified partners. The server centers in Germany guarantee smooth interaction between solutions. They can be integrated into existing call center systems as well as third-party solutions.
All digital channels such as text, chat, messaging, or email are integrated into the Webex Contact Center desktop to ensure a complete customer experience. By integrating IMImobile, you can also offer additional services, appointment management, or access to payment platforms. For direct agent access, these data are transmitted directly to the Cisco Contact Center so that the agent has access to complete customer information. Customer satisfaction can be surveyed using the Webex Experience Manager. Marketing can then use this information to send out relevant, tailored offers to customers. The IMIconnect Flow Builder low-code solution enables contact center administrators to create and adapt chatbots themselves. A solution for central reporting with clear graphics is also available with the Analyzer.
With this solution, the problems mentioned at the start of this post can be resolved and entirely new customer experiences generated. Customers are targeted for outreach, long waiting times disappear, and the constant need for explanation becomes a thing of the past.
Given these far-reaching benefits, integrating solutions like this is a must if you want to increase your lead over market competitors and remain at the very forefront.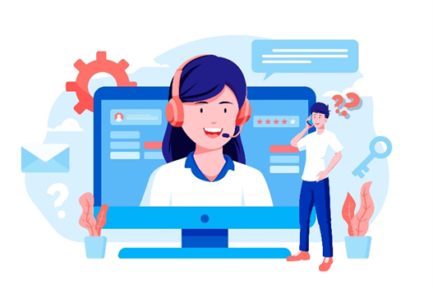 We would love to be of assistance in your search for an advanced, highly efficient, reliable, and secure application and to implement a solution that is tailored to your company and that will make you a market leader.