Unifying Cisco's class-leading contact center solutions with Salesforce Service Cloud Voice to facilitate the AI-powered contact centers of tomorrow
An interview with Tony Flores
Today, customers can connect with companies across almost any digital channel when they have questions. But even with the emergence of all-digital options, phones are still the second most popular channel to access support, with 95% of companies offering phone support and 93% of customers using it. Salesforce Service Cloud Voice is Salesforce's effort to bring together telephony, digital channels, and CRM data into one unified, single source of truth. To fully understand Service Cloud Voice (SCV) and SCV for Partner Telephony and its implications for the market, Bucher + Suter's VP of Product Strategy, Trent Cook, caught up with Director of Service Cloud Voice for Partner Telephony Product Management at Salesforce, Tony Flores.

Trent Cook: Hi Tony, thanks again for joining us today. Let's start with a top-level question. What is Service Cloud Voice?
Tony Flores: Service Cloud Voice makes voice a first-party channel within the Salesforce Customer 360 service channel. Historically, phone has really been treated as a legacy third-party service channel that hasn't been privy to the same AI and productivity tools that have been enabled for our digital channels. With SCV, we are fully integrating voice as a channel into Sales- and Service Cloud.
Contact center agents are now able to see their voice work items in the Omni widget, like they can with all other work items, and set a single status. So, they get everything in one location. And it's a single-pane experience. With every inbound and outbound call, we now have a standard voice call object with all the appropriate call data, which automatically pops with every call. So, we can pop any related records, and we can then include IVR, caller, call lifecycle, resolution, disposition, values, and transcription data, etc. With the power of real-time transcription, we're now able to treat voice like any digital channel. We'll empower agents with tools like Einstein Next Best Action (NBA), Lightning Flows, Einstein Call Wrap-up, Einstein Conversation Intent, and Einstein Article Recommendations in the future. With a standard voice call object, we can enable agents to do other things like use quick actions or macros, helping improve efficiency.
TC: How does SCV differ from the current Salesforce OpenCTI offer and third-party integration?
TF: With OpenCTI, there's a separate 3rd party softphone, and there are no standard objects. Everything is done with custom objects and tasks. And as an agent, you're adding things like your disposition value within that softphone UI as well. Now with SCV, everything is done through the Omni-channel widget and the voice object record. The Omni widget is now where you set your present status. The Omni widget is where you'll accept or reject voice calls. And the Omni widget is where you have your softphone controls as well. So, you can always be sure that you're accepting the next highest priority work item. All customer data is there, right within the voice record. And then there's everything you'll be able do with that data. The AI and productivity tools driven by SCV to reduce average handle times further and increase resolution rates goes beyond what is possible with OpenCTI today. Open CTI will continue to exist, but it's not an area where we have much of a roadmap. So, our investment will continue to be around SCV in the future.
TC: Tony, you and I have been strong proponents of a single source of truth for a long time. It's one of the things Bucher + Suter's products help to promote and advocate. How is SCV helping to endorse the benefits of a single source of truth?
TF: The standard voice call object is the most significant thing at a technical level; it allows all call records to be kept in the database. And not just calls that are answered, but the calls that have gone through the IVR and been abandoned as well. You can see abandonment rates, resolution times, transfer rates, first call resolution, all within Salesforce. And you don't need to use custom objects for any of it.
TC: Cool, so can you explain a bit about BYOT?
TF: BYOT has been our internal name for something which we're calling Service Cloud Voice for Partner Telephony. SCV is our umbrella product, under which we'll offer customers two ways to get the product. SCV for Partner Telephony is one of these options, and it will go live in June 2021. The other is our Amazon Connect integration, which has been generally available since last July. SCV for Partner Telephony will provide customers the choice to use whatever telephony vendor they want to power SCV, so long as the vendor has built a Salesforce connector and managed package that's available in AppExchange.
TC: How will SCV for Partner Telephony differ from the existing product, Service Cloud Voice with Amazon Connect?
We expect full parity between our Amazon Connect integration and our Partner Telephony product from an agent and supervisor perspective. Where things will differ is on the admin side of things. For admins with our Amazon SKU, it's fully integrated and out of the box. So, we're provisioning the Amazon account for you and automatically providing the basic setup experience. For the partner telephony SKU, you'll install a managed package as an admin and then set up Service Cloud Voice in your Salesforce org a little more manually. Configuring things like permissions and SSO will be done manually. Plus, obviously, the vendor licenses are sold separately. So, you're still working with your own telephony vendor or your middleware vendor to license from them.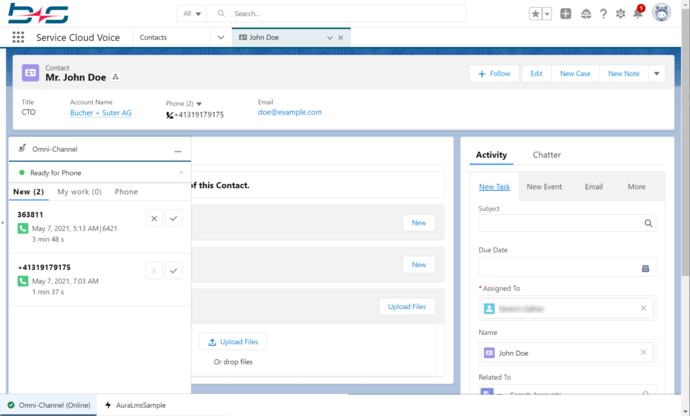 TC: So, companies like Cisco would fit in because they would be that third-party telephony vendor providing the voice?
TF: Correct
TC: Why isn't Salesforce creating these integrations to Cisco, etc. themselves?
TF: To be frank, we don't have an interest or the skills and capabilities to get into the telephony game on a big scale. We don't consider it a core capability, and we have no plans or interest to move into that space. Our desire is to build a complete ecosystem for our customers. So, they can choose whatever telephony vendor they want as part of the Service Cloud Voice license. As for building those integrations, it's not scalable for us to do that. It's a large ecosystem: 50 to 100 different vendors across the world. Our goal is to build the right set of APIs so that vendors can connect to those and build manage packages that humans can then install to make that setup smooth and easy for them.
TC: Cool. Shifting gears, a little bit. You mentioned the standard voice object earlier, and in the back of my head, I just thought, "analytics." Of course, the added real-time capabilities of things like transcription for next best action are fantastic. But, maybe you could elaborate a little on the post-call capabilities and analytics?
With voice call records, Salesforce can become the source of truth for all call data, both during- and post-call as well. Through the APIs that we provide, telephony vendors can update voice call records as appropriate. We're also empowering admins, supervisors, and business managers to use Omni-Channel Supervisor for all service channels. So now they can see, in real-time, all agents across their service channels and work items within the supervisor console. And they can use transcripts and recordings to collaborate and coach agents, and onboard new agents. In the future, we'll also work with vendors to show things like calls in queue, as well as a calls and skills backlog in their own view.
TC: What do you think is the biggest or the most remarkable thing that comes out of SCV?
I would say what's key is the intelligence driven by the real-time transcription. We can now power Salesforce Einstein to provide the Next Best Action recommendations, and in the future, we'll also power Einstein Intent and Sentiment, Einstein Article Recommendations, and automated call wrap-up. Agents won't need to spend time on wrap-up themselves; they can use Einstein to automatically recommend or set the correct field values for them if the AI confidence is high enough. That will dramatically improve handle times and resolution rates for the agent.
TC: Okay, so if I can summarize, I think there are three primary messages surrounding SCV. The first is that this an AI-first Salesforce strategy. So, enabling APIs and AI engines that can be consumed easily. Second, I see standardization: Customer 360, all standard, all out-of-the-box. And then finally, partner ecosystem is obviously a critical path for Salesforce to ensure that you're able to provide the AI and that standardization across any platform for any vendor necessary. Would you agree with that?
TF: Yeah, absolutely.
In 2021 Bucher + Suter is continuing to invest in our relationships with Cisco and Salesforce by enabling Service Cloud Voice for Partner Telephony.
This integration will enable transcription, Einstein Next Best Action, Knowledge Recommendations, Wrap-up and many other AI features that Tony mentioned to work natively with Cisco Contact Center and AI vendors like Uniphore, Voicea and Google.
The evolution of the b+s Connects portfolio is enabling us to provide the next generation contact center experience. Out-of-the-box AI contact centers are the future, and we absolutely dig it.
To find out more about how Bucher + Suter's products and integration solutions are bridging the gap to the future of conversational AI in contact centers, reach out to us via the link below.
This article was brought to you with the help of transcription services.