AI for Customer Experience: 5 Use Cases for the Modern Contact Center
One has to admire the resilience of the contact center model. Despite near constant change and disruption, customer service leaders continue to adapt and evolve. As they must. Because brands now compete on customer experience, of which support is a critical component.
This puts immense pressure on the people running contact centers. When customers encounter friction, or have a problem, they call support, and those interactions cost money. And with only 13% of CX leaders confident they can take action on CX issues in near real time, contact center efficiency will remain a top priority for the foreseeable future.
Thankfully, one particular disruptor in the contact center space—what we can broadly refer to as AI for customer experience—is more of a blessing than a curse. Through that work, we've identified five areas of the contact center experience in which AI can provide significant lift in efficiency, service quality, and overall experience:
Help customers

help themselves

Route inquiries

to the right place

Assist agents

assisting customers

Improve chatbot

quality and efficiency

Automate phone

interactions with voice bots
What follows is a closer look at how your contact center team might make good on each opportunity.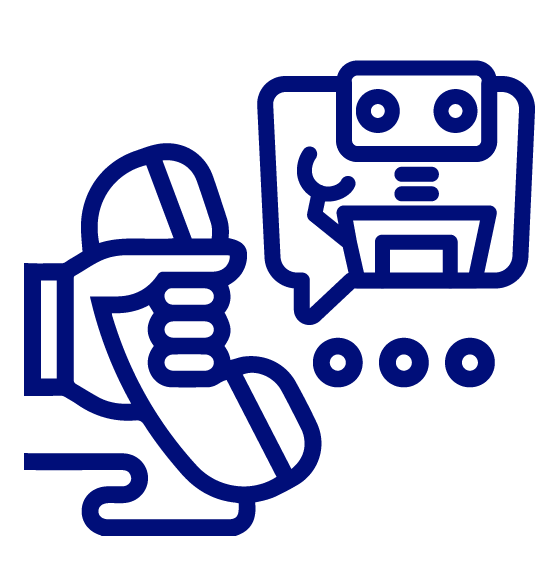 First, what does AI for Customer Experience really mean?
In the context of the customer journey, AI is behind many of the conveniences that were once science fiction to the modern biped. Hold up Google Lens to that old Slovak-language cookbook on Grandma's shelf and right away you have the real-time translation of her famous whipped-cream fruitcake recipe right there on screen.
Listen to Spotify long enough and soon the recommendations on your home screen will surprise you with their accuracy. The same goes for YouTube, which is constantly adjusting recommended content based on your interactions with the system.
These are two of countless examples that underscore the new customer journey paradigm characterized by Harvard Business Review: the ability to use customer data and AI to personalize and optimize nearly every aspect of the customer journey.
For the contact center leaders interested in using AI to improve the customer experience, the possibilities are many.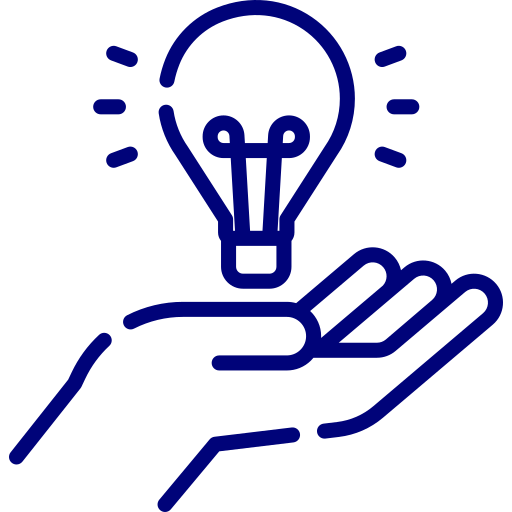 Five use cases for Artificial Intelligence in Customer Service
The proliferation of AI-powered solutions creates some new opportunities for contact center leaders. We've identified five potential use cases that we think have the most upside, both in terms of improving contact center efficiency, customer loyalty, and the overall customer experience:
Let's say your contact center receives 500 inbound cases a day, on average. How many of those cases are for repeat, low-touch issues (lost password, order status, etc.)? Customer self-service channels provide an opportunity to shift this portion of case volume to the left. 
In other words, move the cases that customers could handle on their own to dedicated self-service channels. Here, we see AI improving customer experience by suggesting solutions along the way, based on available customer data and behavior, thereby deflecting cases.
Here's a few examples of intelligent case deflection powered by AI:

1. Intelligent Customer Self-Service
Let's say your contact center receives 500 inbound cases a day, on average. How many of those cases are for repeat, low-touch issues (lost password, order status, etc.)? Customer self-service channels provide an opportunity to shift this portion of case volume to the left. 
In other words, move the cases that customers could handle on their own to dedicated self-service channels. Here, we see AI improving customer experience by suggesting solutions along the way, based on available customer data and behavior, thereby deflecting cases.
Here's a few examples of intelligent case deflection powered by AI:
AI for Customer engagement on the case submission form
What's better as a customer than receiving real-time recommendations as you're filling out a support request form? At this crucial inflection point in the support journey, AI can supply personalized answers that solve your issue right then and there—without the need to call or send an email.  
Using AI to improve customer experience through predictive search and personalized recommendations
Many brands opt to bring intelligent search experiences into their self-service offerings. The Vizio support page is a good example of this predictive search functionality: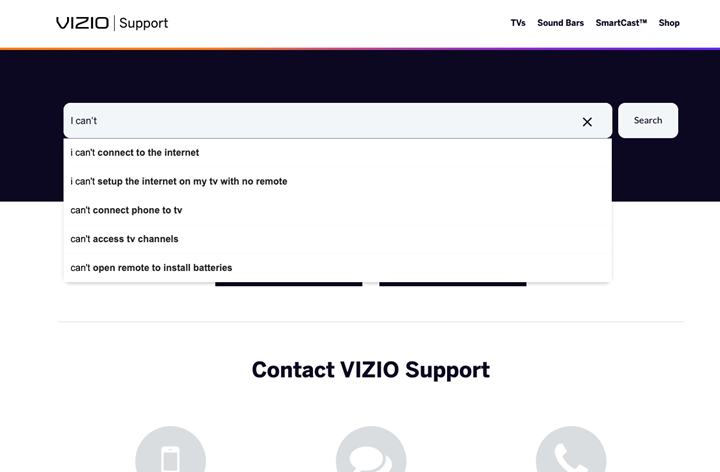 In addition to powering predictive search, AI can dynamically recommend related content and solutions based on the user. On the Hulu support page, for example, users will see customized recommendations after inputting just a few details about their issue: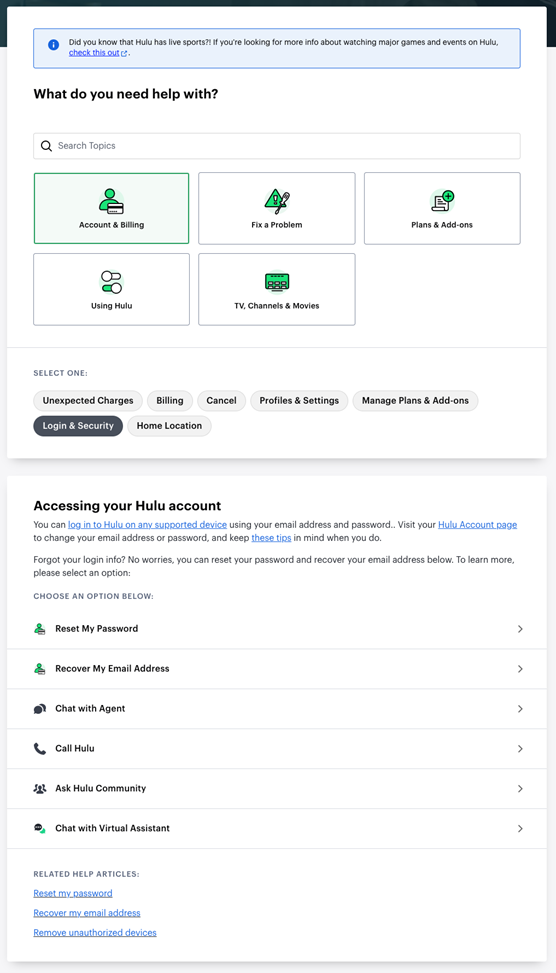 AI improving customer experience over the phone
As effective as online self-service options might be, voice bots can handle self-service volume, too. A change of address, or retrieval of real-time account balances, for example, or the ability to change a flight without speaking to an agent. 
Granted, these examples of voice-assisted self-service can be complicated, because they typically involve the integration of multiple systems. Still, with digital platforms like Webex Connect, standalone communication platforms, and backend systems like CRMs, booking systems, or even banking platforms can be seamlessly integrated.
These are three of many ways that contact center teams can enhance self-service so their customers can quickly and easily find the information they need. This not only saves time and reduces frustration, but it also frees up agents to handle more complex issues. 
Good for the contact center. Good for overall customer experience. Must be why migrating service volume to self-service is a priority for more than half of customer service and support leaders.
2. Intuitive Omnichannel Routing
Of course, contact center inquiries come in through a variety of channels. Not only do customers expect access to their preferred choice of contacting you, but they expect accurate and timely resolution no matter which path they take.
Here is where omnichannel routing, another strong example of artificial intelligence in customer service, can be a gamechanger. It's like an always-on switchboard that categorizes and forwards all calls, emails, and chats to the right place.
Not only does this help cut down resolution times, but it can insulate the contact center against unexpected spikes in case volume.
How Nike uses omnichannel routing based on customer behavior
One real-world example of omnichannel routing in the contact center is the customer service system used by Nike. Nike's system is designed to seamlessly integrate a variety of different channels, including phone, email, chat, and social media, in order to provide customers with a consistent and personalized experience, no matter which channel they choose to use.
Nike's routing system can identify and prioritize customer inquiries based on a range of factors, such as urgency, customer history, and the availability of agents. Considering the high volume of inquiries that a global brand like Nike receives every day, omnichannel routing is a critical part of delivering superior customer experience that meets the needs of today's connected, tech-savvy consumers.
3. Proactive Enablement for Agents
When customers do interact with agents, we need to put those agents ahead of the ball. To this end, AI can work in the background, continuously gathering and analyzing any and all context about the customer and their issue, including:
Information from the current and past tickets
What the customer has viewed, engaged with, and attempted thus far
Articles that have helped solve similar cases in the past
The journeys of similar customer personas
The agent can then see recommended solutions on their desktop, sometimes before they even pick up the phone, which can dramatically speed up service interaction time. Moreover, the availability of such personalized recommendations can help new agents ramp faster, further reducing churn and burnout.
AI customer Experience examples: Next Best Action from Salesforce Einstein
A notable example of this use of AI for customer experience is Next Best Action from Salesforce Einstein.
Next Best Action surfaces personalized recommendations for how to best engage with each individual customer. This might include suggestions for cross-selling or upselling products, offering targeted promotions or discounts, or providing just the right solution to resolve an issue more quickly.
4. Smarter Chatbots
Despite some notable chatbot snafus, the technology itself has already reshaped the contact center model. When supported by powerful machine learning and AI—and connected to a lot of data and knowledge—chatbots can assume a frontline support role.
An AI-powered chatbot offers a few advantages for the contact center: 
The ability to resolve issues on its own, without opening support requests

Intelligent handoff when customers require live-agent chat

24/7 availability for customers around the world

A self-improving support channel
Chatbots are perhaps one of the more exciting examples of AI improving customer experience. ​​By some estimates, nearly 40% of internet users worldwide prefer interacting with chatbots, rather than virtual agents. That's good for customer loyalty. As for the business value of a good chatbot, Juniper Research found that chatbots will create $11 billion in annual savings across retail, banking, and healthcare. That's great news for the customer service team, in particular.
But they'll need powerful AI and machine learning to do it.
5. Automation with Voice Bots
Despite the proliferation of viable service channels, such as chatbots, many people still prefer to call the contact center, and those phone calls comprise the most expensive support interaction for most contact centers.
So what do most teams do? They deploy phone menus and intelligent routing to mitigate the daily onslaught of calls. At the very least, these tactics serve as a frontline for call volume that helps make the process more efficient.
But 88% of people prefer speaking to a live customer service agent, rather than tussle with an archaic phone menu. So removing the option to call completely is not an option. An alternative is to deploy AI-powered voice bots, which can do a few things that traditional phone menus cannot:
Understand and process natural speech
Perform customer identification and authentication
Prequalify customer requests for automated service or intelligent case routing routing
Handle change of address, contact person inquiries, etc. over the phone
Offer 24/7 support automation in many different languages
Capture, analyze, and aggregate call transcriptions for a variety of applications
Indeed, voice bots can significantly ease the friction for customers, while easing the load on the contact center. They're another core example of the role of artificial intelligence in customer service.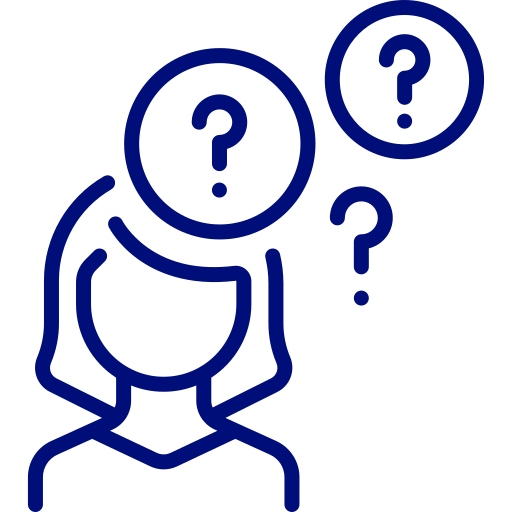 Key questions to ask when considering AI
When considering their own approach to AI for customer experience, leaders in the contact center should ask themselves a few important questions:
What specific customer experience pain points are we trying to address with AI?
How will we measure the success of our AI deployment?
What types of AI tools and technologies are best suited to our unique customer service needs?
What are the potential risks and limitations of deploying AI for customer experience?
What kind of training and support will our agents need to effectively use and benefit from AI?
How will we integrate our AI for customer experience tools with existing infrastructure and processes (such as CRMs)?
What kind of investment in time, resources, and expertise will be required to successfully deploy and maintain AI in our contact center?
How will we ensure that our approach to AI for customer experience remains relevant as customer needs evolve over time?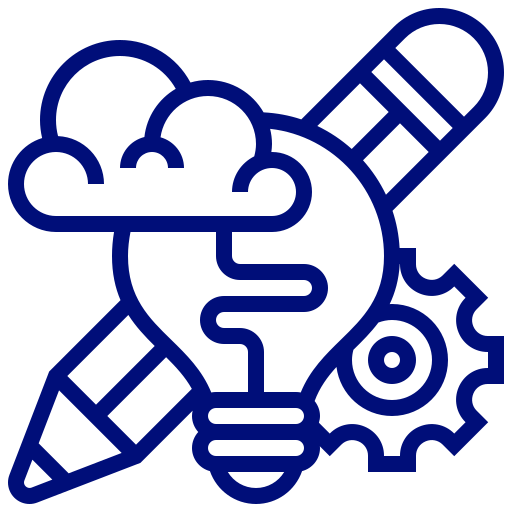 The potential of AI for Customer Experience is real, but there's still work to do
The future of artificial intelligence in customer service is bright, and in the last couple of years, especially, the technology has made significant strides that carefully balance the benefits to the business and the customer. These five use cases cover the majority of the service journey for customers. Beyond embedding AI across self-service, routing, and the agent experience—as well as into chat and voice bots—enterprises can take AI for customer experience a step further.
Many of the examples above ask customers to authenticate before accessing support channels. This allows for even deeper personalization.
Of course, harnessing the power of AI for customer experience requires a commitment from contact center leadership. A commitment to asking the hard questions about what should be automated and how, and to investing the requisite time and resources to ensure AI always creates value for customers.
It's no small feat. A market study from Customer Contact Week found that even though customers are more willing than ever to use AI-powered support channels, most are unimpressed by the results (57% feel they'll still get what they need faster by picking up the phone). What's more, the same report found that the #1 CX pain point leaders hope to solve through digital channels is long wait times to reach agents (75%).
The AI landscape is also complex, but at Bucher + Suter we pride ourselves on our commitment to only work with the best technology providers, so we can hone in our customers' specific challenges. We always start with the challenges first, and never the solutions, which is why we're so successful at helping our customers get every drop of value from their investments.
Evidently, the personalization of the contact center experience at scale has never been more important.
If you'd like to understand more about Bucher + Suter's contact center AI services, then please contact us, using the form below.